Racial Disparities in COVID-19 Fatality and Incidence in Michigan
Racial disparities in incidence rates explain observed disparities in COVID-19 fatality: People of color experience more fatality with increased exposure
Standardized Weekly Incidence of
Black

&

White

COVID-19 Patients in MI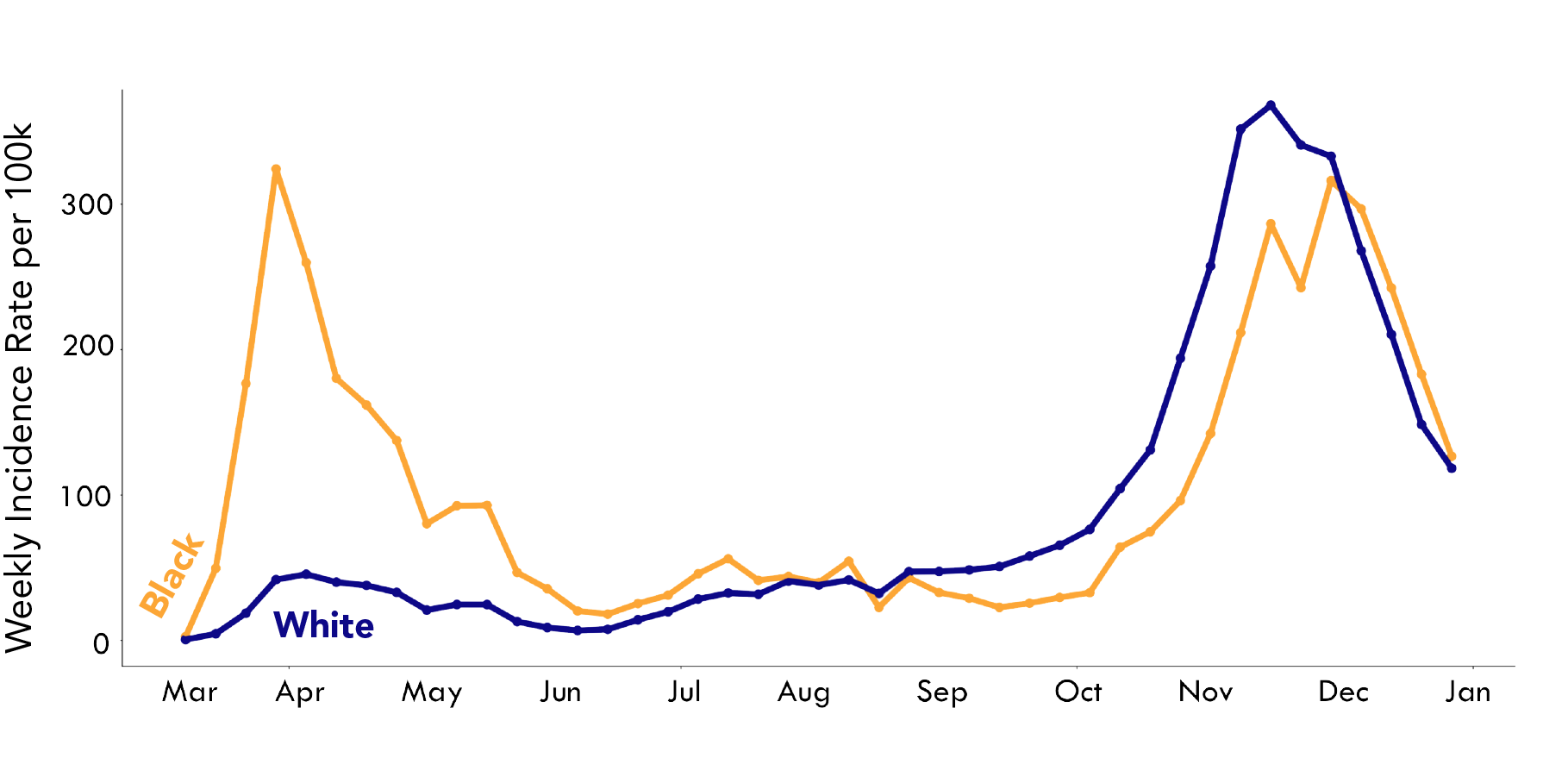 Data from MDHHS, US Census
Black Michiganders had very high weekly incidence rates at the start of the pandemic, but incidence was higher for White Michiganders during the winter surge
Standardized Weekly Incidence of
Latino

&

White

COVID-19 Patients in MI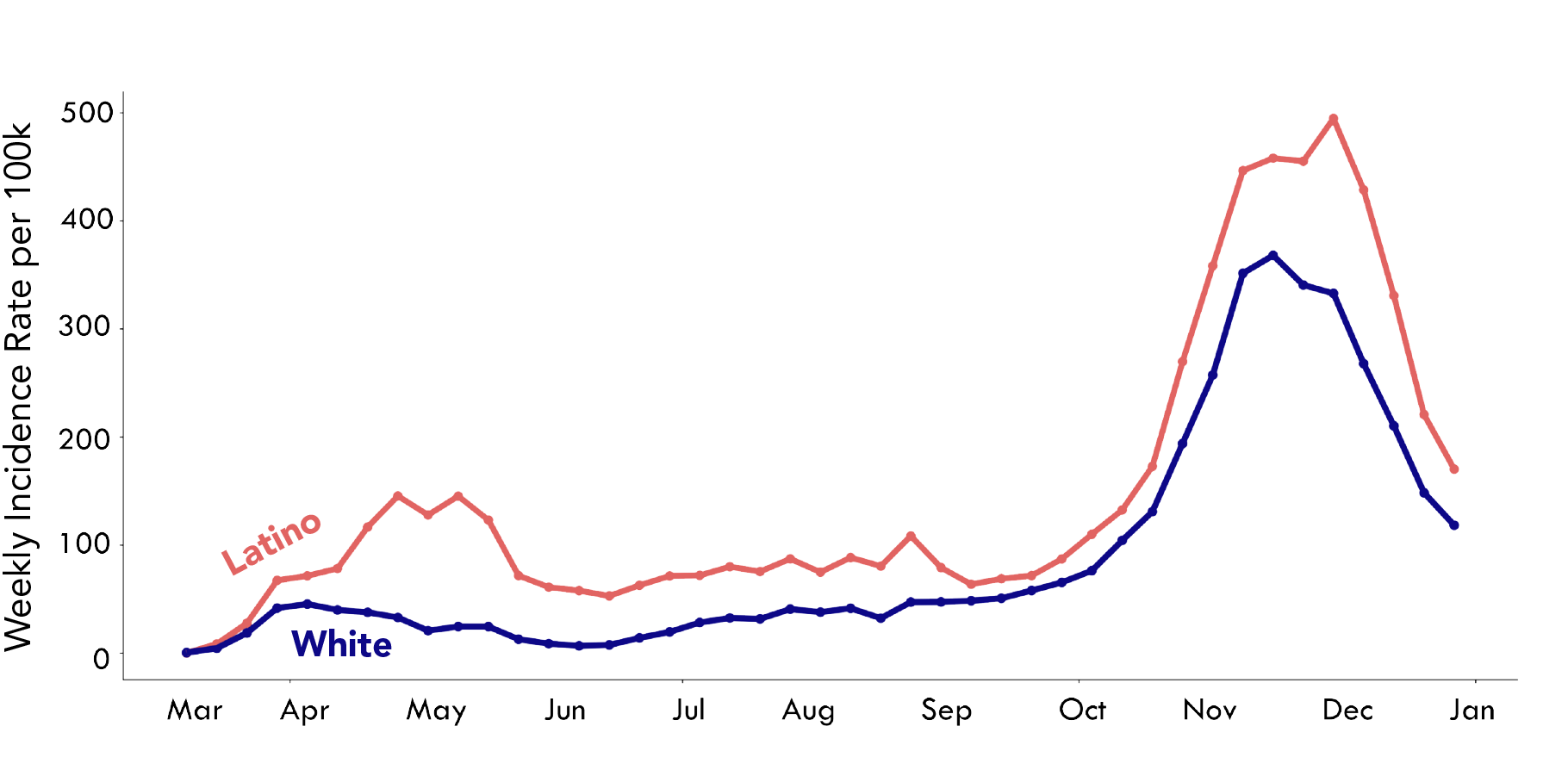 Data from MDHHS, US Census
Latino incidence reached a peak of about ~200 cases per 100k per week in May, and outpaced that of White Michiganders during the winter surge
What is Disparity? What is Incidence?
Disparity refers to a noticeable, significant difference. In the context of COVID and Race, disparity refers the much larger number of people of color being affected by COVID compared to the number of non-people of color being affected. It also refers to the much larger number of people of color working essential jobs or other jobs that are at high risk for the spread of COVID.
Incidence refers to newly diagnosed or occuring cases of a disease. For COVID, incidence refers to newly diagnosed or detected cases. "Incidence Rate" or "Weekly Incidence" would then refer to any new cases that were found in a given amount of time (i.e. in a week).
There are also racial disparities in essential work, putting people of color at higher risk of workplace exposure to COVID
Black workers make up 11.9%* of the workforce, but are over-represented in frontline jobs
Male Latino workers make up 9.9%* of the work force but are over-represented in jobs at high risk for spread of COVID-19
* Percentages represent percent of workforce in entire United States
Data from Economic Policy Institute
Members of different races/ethnic groups are more likely to die of COVID-19 if they get sick, but this effect does not explain observed disparities in fatality rates
Age & Sex Standardized Case Fatality Ratio (CFR) of COVID-19 Patients in MI by Race/Ethnicity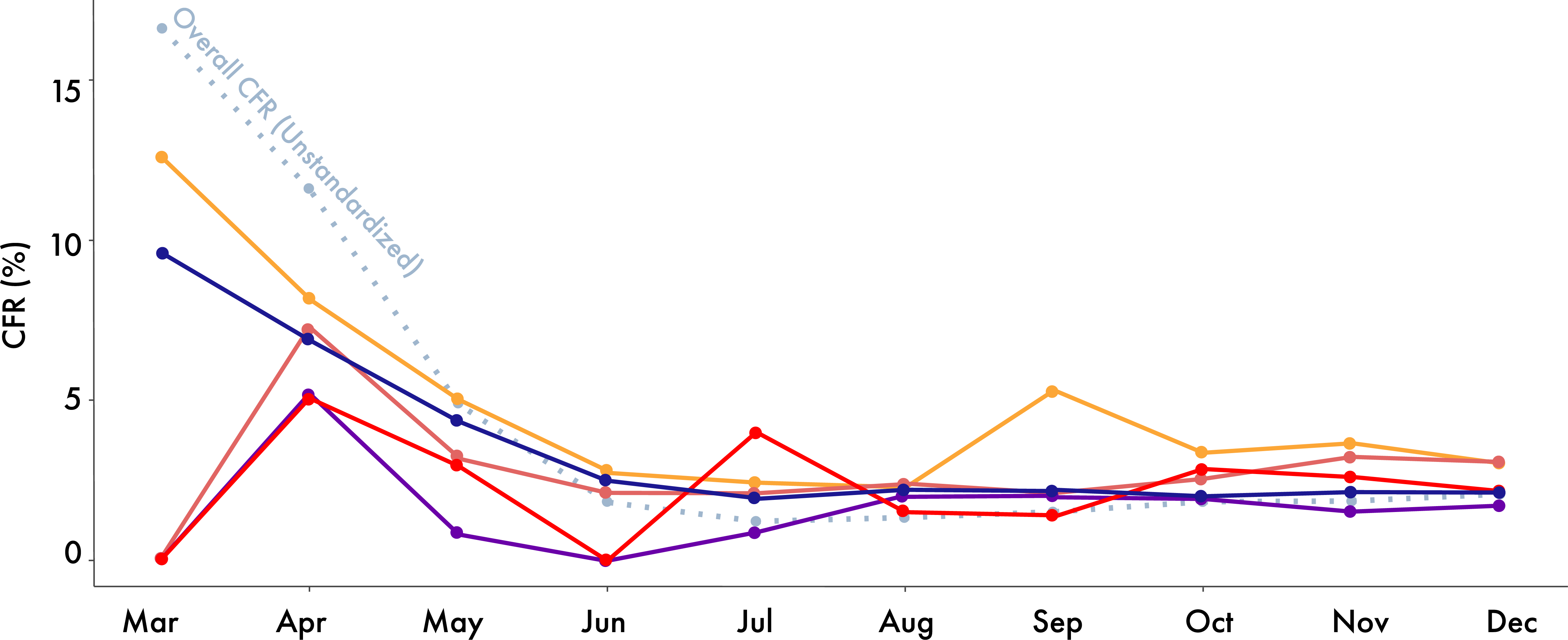 Early in the pandemic, Black Michiganders had the highest CFR, followed by White Michiganders. Black disparties in CFR decreased over the summer but increased in Sept. The CFR for Asian or Islander is increasing. Overall, CFR disparities do not explain racial disparities in death rates.
Data from MDHHS March 8 - Dec 31, 2020
What is a Case Fatality Ratio? What is Standardization?
Fatality refers to death.
The Case Fatality Ratio (CFR) is the proportion of people who die when they get sick. For COVID, that would be the number of people who die from COVID out of the total number of people who get COVID.
Standardization is a method of re-organizing data so that different data points can be compared to each other based on the same factors. In the COVID and Race context, the standardized case fatality rate takes into consideration the race-specific death rates of one race group and applies those rates to another race group. Because the same pattern is being used to compare different sets of data, it allows "apples" to be compared to "apples."
What was the standardized CFR by race in the first wave (Mar - Jun) vs. the late 2020 surge (Oct - Dec)?
Black Wave 1 (Mar - Jun)
Black Wave 2 (Oct - Dec)
Split by race, how many COVID-19 patients
will die, per 100, in these two time periods?
Infographic Produced by Ramya Naraharisetti & Nina Masters on 02/05/2021